Accessibility Quick Links
Innovation Banking Industry News
Our Innovation Banking team, the senior team members of which have a combined over 40 years of industry experience, are active members of the technology entrepreneur and investor communities across the country. As such we are able to keep our fingers on the pulse of the industry, closely monitoring valuation trends, emerging technologies, and investor appetites.
Venture Capital (VC) Market Update – 1H18: On Pace to be Another Record Year for Investment

2018 has seen over $57 billion invested in the first half, which is on pace for another record year.

$57.5 billion across 3,997 completed financings.
2Q18 was the 5th consecutive quarter with over $20 billion invested.

The number of deals closed has been in decline since 2015, increasing the amount of capital per deal.

Crystallization of a new 'normal' where capital is concentrated into fewer, larger deals; upward shift in deal size has persisted for nearly a decade across all stages.
94 financings of at least $100 million.

More than just mega-deals; all stages are experiencing increasing deal size.

Early stage deals ($10 to $25 million) are on pace to surpass $10 billion in 2018, the first time in history since VC stats have been tracked.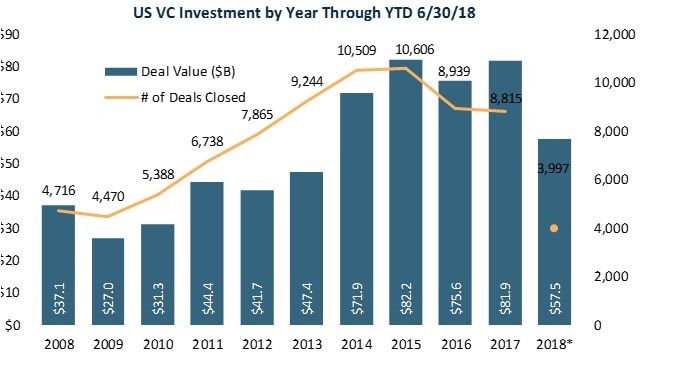 Fundraising Showing No Signs of Slowing
$10.8 billion was raised across 72 funds in 1H18 putting both capital raised and fund count on pace to exceed 2017 totals.

Funds in the $100 to $500 million range have raised capital at a faster pace than any other segments.

Closing of funds in this range are up from 40% of capital raised in 2014 to 56% so far in 2018.
Being driven by elevated valuations of seed-stage startups, which in turn is driving VC's to raise larger funds.
Recent pitchbook analysis shows larger funds have been proven to provide greater returns.

Companies continue to wait longer before seeking seed funding.

No longer exclusively startups at the earliest stage of their lifecycle. Many 'seed' companies now have significant levels of market traction and product development.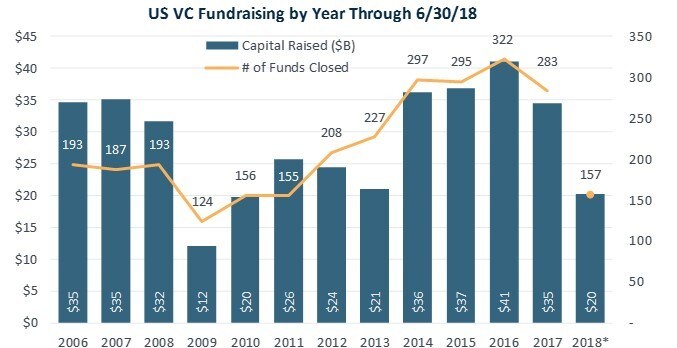 Venture-Backed Exits Continue Decline: Median Exit Sizes Continue Growth
Only 419 exits in 1H18 totaling $15.7 billion.

6% YoY (year over year) decrease in deal count, while liquidity realized via exit remained virtually unchanged with a 0.3% increase YoY.

Median exit sizes continue to increase, which is maintaining continued investor interest in the asset class.
Biotech and pharma account for a majority of the IPO exits.
Corporate acquirers have been spurred by tax reform legislation.

Alternative (non-venture capitalist) investors appetite for asset class grows.

Private equity becoming a substantial alternative source of liquidity via secondary sales.
Special Purpose Aquisition Companies experiencing increased activity.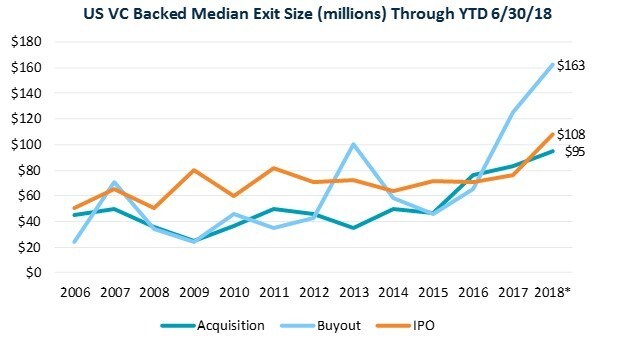 2Q18 VC Deal Activity by Region: Coasts Remain Dominant
The west coast remains the dominant region for VC activity with more deals than all others, while the Mid-Atlantic region has the next most deals.

The Great Lakes, Midwest, and Southeast regions combined accounted for 15.8% of deal activity (# of deals) and 9.2% (capital invested) in 2Q18.
Florida, North Carolina, and Illinois were the top 3 states in CIBC Bank USA's regions with $1.2 billion, $868 million, and $761 million in VC capital invested in 2Q18, respectively.
For more information contact:
John Hoesley
Managing Director
312-564-2711
Kurt Nichols
Managing Director
312-564-2651