Accessibility Quick Links
Powerful tools for serious financial strategy.
You benefit from our personalized lending, trust and asset management capabilities delivered locally by experienced advisors.
Whether it's expansion plans for my business, or long-term planning for my personal needs, I have confidence in the Private Wealth team's execution and service. My advisors and I have developed a genuine relationship that I truly value.
Leslie S. Hindman, Private Wealth Client
Trust someone you know. Trust someone who knows you.
CIBC distinguishes itself through attentive service and a focus on building strong relationships.
The Private Wealth team at CIBC works with business owners, individuals and families to deliver private banking, personal trust and investment services. Our Private Wealth professionals bring a depth of experience that allows us to structure custom solutions based on your personal goals. Whether you are building, preserving or transitioning your wealth, we take the time to understand your objectives and your aspirations, and we work to anticipate your questions before they become your concerns. Let us help create your optimal private banking and investment management solution. 
To learn more, contact Daniel Sullivan, Jr., Managing Director, Head of Private Banking, at 312-564-6802. You can also contact William Norris, Managing Director, Chief Investment Officer, at 312-564-1921.
The Private Wealth Group supports my long-term goals through personalized banking solutions and investment strategy. The team is relatable and really values building trust and making you feel comfortable on a personal level. I feel like I'm their number one client.
John Bosbous, Private Wealth Client
Check on your finances anytime, anywhere.
Access the way you want it. Our online banking site has everything you need to transfer funds and monitor your financial growth, and you can see it all on your mobile phone, too. We want to help, every which way.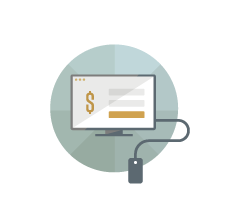 Online
Log in to your account for up-to-the-minute information about your accounts, with tools designed specifically for speedy banking.
Mobile
Transfer between your accounts at CIBC or pay a bill on your mobile device when you want, where you want with apps for Android and iOS.
Call now to start the relationship
312-447-7882
Terms and conditions

Show or hide

*Not FDIC insured; not deposits or obligations of, or guaranteed by, CIBC; and are subject to investment risk, including loss of principal.

1Private Banking Services offered by CIBC Bank USA.