Accessibility Quick Links
Why Work at CIBC?
At CIBC, our team works to act with courtesy, dedication and accountability to help our clients reach their goals. Our employees strive to be the best at what we for our clients every day. If you like a fast-paced, results-driven culture, a commitment to working as a team and an organization that embraces the value of its people in reaching its goals, then explore our job opportunitiesOpens a new window in your browser.. By providing the best for our clients, we aim to provide the best for you.
Career Center
At CIBC, we believe the value of our organization lies in the quality of our people. Whether you're just beginning your career or are an expert in your field and ready for a change, we offer a dynamic and challenging environment to help you grow.
CIBC and its subsidiaries are equal opportunity employers committed to a diverse workplace free of discrimination or harassment.
Compensation and Benefits



We offer a comprehensive and competitive compensation and benefits program. Compensation is determined using competitive market data and bench-marked regularly. We also offer a variety of benefit plans intended to enhance your well-being. In addition to healthcare benefits such as medical, dental and vision, we have a tuition reimbursement program, wellness initiatives, generous time-off policies, and strong focus on work-life balance.
Eligibility for benefits may vary depending on employment status.
Accommodations for Disability
CIBC values a diverse workforce and is an equal opportunity employer. If you're a qualified candidate for a position that's currently available and you're limited as a result of your disability, you can request reasonable accommodation. Request accommodation when you notify us of your interest or by calling us at 312-564-2000Opens your phone app..
Diversity
CIBC is committed to building a diverse work environment. We're an Equal Opportunity Employer and our practices support employees of all races, ethnicities, cultures, gender and sexual orientation, as well as those with physical disabilities. Recognizing our employees' diverse points of view and experiences is an essential part of what makes our environment collaborative and dynamic. Diversity allows our company to be competitive while inspiring our employees to perform at their highest level and openly share ideas.
Awards and Recognition
The following awards include our recent business achievements, community recognition and other accomplishments.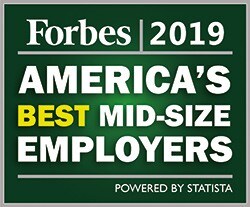 Forbes America's Best Mid-size Employers
We're proud to once again be recognized as 1 of America's Best Midsize Employers by Forbes for 2019. This is the second consecutive time that we've been recognized.

Achievers 50 Most Engaged Workplaces Award
CIBC was recognized as 1 of Achievers 50 Most Engaged Workplaces™ in 2019. This award recognizes employers who demonstrate leadership and innovation through employee engagement in the workplace.
E-Verify Resources
Review the following documents if you reside in a state which requires E-Verify:
Corporate Headquarters Address
120 South LaSalle Street
Chicago, Illinois 60603