Accessibility Quick Links
Everyone is working towards something. At CIBC, our purpose is to help you get a little closer every day.


We take the time to understand you
For more than 155 years, CIBC has worked to build trusting and enduring relationships. We take time to listen, to offer understanding, our insights and to ensure we are there for you every step of the way. Learn more about how we make our clients' ambitions a reality.

We make managing your finances simple and clear
From opening your first checking account, to building a business, to leaving a legacy, our team helps clients realize their ambitions every day. Whether in our banking center, over the phone or online, we're here to help.
You have choices. We appreciate being your bank.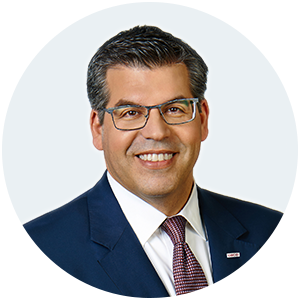 Shawn Beber
Senior Executive Vice-President & Group Head, U.S. Region
President & CEO, CIBC Bank USA
"Across our businesses, our teams are dedicated to one thing: helping to make your ambition a reality. We work together to embrace your goals, deliver a consistently great experience and to ensure you know we are grateful you've chosen CIBC."
Our solutions enable your goals
Through our purpose, we offer you the knowledge you need to make confident decisions for yourself, your family or your business. Use the following icons to learn how we can help make your ambition a reality.

Building our communities and strengthening our possibilities
Our communities are the foundation for where we live, work, learn and play. We support organizations and create partnerships to help make a difference, improve financial wellbeing and create opportunities for all.

Sponsorships
We're proud to be the Official Bank of the Chicago Red Stars. It's an honor to have our name on the front of the Red Stars jersey as a strong sign of our commitment to women's professional soccer.

Community
We partner with community groups to ensure we address their most pressing needs. By investing in local businesses we are helping to create job opportunities and increase access to services.

Diversity and inclusion
We're dedicated to embracing the diversity that makes us all unique. Whether you're a client, a part of our team or a member of our community, you belong at CIBC.
Corporate headquarters address
120 South LaSalle Street
Chicago, Illinois 60603
About us
We strive to build trusting and enduring relationships by putting our clients at the center of all we do. Learn more about CIBC.