Accessibility Quick Links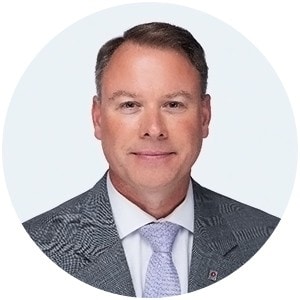 Bradley Fedosoff
Senior Vice-President, Head of U.S. Technology, Infrastructure & Innovation
Bradley Fedosoff is Senior Vice-President and Head of U.S. Technology, Infrastructure and Innovation (TI&I). He is a member of the U.S. Region Executive Committee and CIBC's Global Leadership Team.
Fedosoff leads the technology, operations, information security, TI&I governance, risk and compliance, including data governance, functions in the United States. He is also the lead on corporate services, including real estate and program management. Fedosoff joined CIBC in 2007 and has held various roles within CIBC Technology, including Global Systems Engineering and the Head of Enterprise Architecture. He most recently led CIBC's Architecture, Data and Analytics team. While in this role he provided business and technology architecture, data and technology governance, data engineering and enablement, advanced analytics and artificial intelligence services to the Enterprise.
Prior to CIBC, Fedosoff worked for Hewlett-Packard as the Chief Technologist on multiple global accounts managing global teams. He has over 20 years of experience in the technology, information security and governance fields.
Fedosoff is a Toronto Metropolitan (formerly Ryerson Polytechnic) University graduate and a member of the Center for Information Systems Research (CISR) at MIT.