Accessibility Quick Links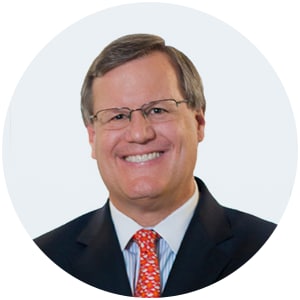 John Markwalter, Jr.
Chief Executive Officer, CIBC Private Wealth Management, U.S.
Jack Markwalter is Chief Executive Officer of CIBC Private Wealth Management in the U.S. and serves on CIBC's Operating Committee as a member of the executive leadership team and on CIBC's U.S. Executive Committee. He's also chairman of several of the entities within CIBC Private Wealth Management — CIBC National Trust Company, CIBC Delaware Trust Company, CIBC Private Wealth Advisors, Inc. and CIBC Private Wealth Group, LLC.
Markwalter has more than 30 years of experience in the private client and investment industry. He joined the firm in 2002 as head of business development and became chairman and CEO in 2004. From 2005 to 2013, he also served as senior managing director of Invesco and as a member of the Invesco Executive Management Committee. From 2008 to 2010, Markwalter was head of Invesco U.S. Institutional Sales, Client Service and Consultant Relations as well.
Before joining CIBC Atlantic Trust, which became CIBC Private Wealth Management in 2018, he served as managing director and national director of the client strategy group for Morgan Stanley Private Wealth Management.
Markwalter earned a bachelor of science with highest honors from the Georgia Institute of Technology and a master of Business Administration from the Harvard Graduate School of Business.
He serves in various leadership roles for numerous community organizations. Among other positions, Markwalter is a member of the board of directors for the Georgia Tech Foundation, the board of directors for the Marist School and the board of directors at the Woodruff Arts Center. Additionally, he serves as co-chairman for his Harvard Business School Reunion Fund Campaign and remains actively involved as an emeritus member with the Children's Healthcare of Atlanta Foundation, the Atlanta History Center and Big Brothers Big Sisters, all of which he previously participated in as a board member.
Markwalter has been featured in various publications and other media outlets, including The Wall Street Journal, Barron's, CNBC, Private Asset Management magazine and Family Wealth Report.