Accessibility Quick Links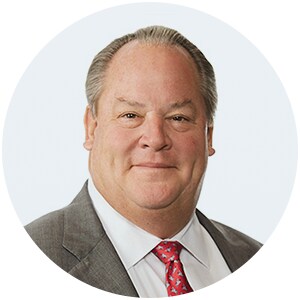 Bruce Hague
Executive Managing Director and President, Commercial Banking
Bruce Hague is Executive Managing Director and President, Commercial Banking. He jointly leads CIBC's U.S. commercial banking business, including middle market and mid-corporate banking, asset-based lending and national industry and financial institution specialty banking groups, as well as treasury management and syndications. He is a member of the U.S. Executive Committee and the Global Leadership Team.
Hague joined CIBC through the 2017 acquisition of The PrivateBank, which he joined in 2007. Previously, he was Executive President of National Commercial Banking for LaSalle Bank, N.A., where he was responsible for overseeing 23 regional banking offices, including all commercial regional offices located throughout the United States, and International Corporate Banking. He was also responsible for LaSalle National Leasing, Corporate Finance and Employee Stock Ownership Plans (ESOPs). Prior to joining LaSalle in February 1992, Hague worked with 2 Chicago-area groups in mergers and acquisitions. In addition, he gained extensive banking finance and business experience as a commercial lender with American National Bank of Chicago for 11 years.
Hague is a member of the Northwestern University Alumni Association and serves on the boards of directors for the Daniel J. Murphy Scholarship Foundation, The Chicago Lighthouse for the Blind and Ann & Robert H. Lurie Children's Hospital of Chicago. He earned a bachelor's degree in economics from the University Illinois Urbana-Champaign and a master's degree in Management, Finance and Accounting from Northwestern University's Kellogg Graduate School Management.