Accessibility Quick Links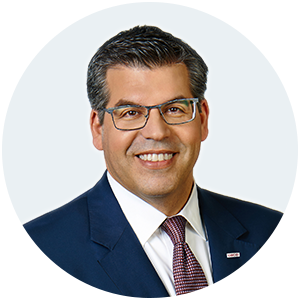 Shawn Beber
President and CEO, CIBC Bank USA
Senior Executive Vice President and Group Head, U.S. Region
Shawn Beber leads CIBC's U.S. Region, which includes middle market commercial banking, wealth management, private banking, and retail and digital banking. He also oversees all Capital Markets activities in the U.S., and leads a team expanding our U.S. franchise as part of our strong North American platform.
Most recently, Mr. Beber served as Chief Risk Officer overseeing all areas of strategic, market, credit, operational, liquidity and reputational risk, as well as compliance and anti-money laundering.
Previously, Mr. Beber was General Counsel, responsible for CIBC's Legal function globally, as well as Corporate Development, Corporate Secretary, Privacy, the Ombudsman's Office (now the ClBC Client Complaint Appeals Office) and CIBC FirstCaribbean. He was also responsible for the bank's whistleblower function.
Formerly, Mr. Beber was Managing Director and Head of U.S. Capital Markets, as well as accountability for the strategic vision and growth of the U.S. Capital Markets businesses. He was also a member of the CIBC Capital Markets Management Committee and U.S. Region Executive Committee.
Before that, Mr. Beber was Senior Vice President, Strategy and Corporate Development. In this role, he was responsible for identifying, assessing and executing key transactions, including the acquisitions of The PrivateBank and Geneva Advisors. He's also been a member of CIBC's merchant banking group within CIBC's Capital Markets line of business, where he sourced and executed acquisitions and investments in a broad range of industries. Shawn joined CIBC in 2002 in the bank's legal division. He began his career practicing corporate law at a leading Toronto law firm.
Mr. Beber is a graduate of the combined Master of Business Administration and Bachelor of Laws (JD/MBA) program from the University of Toronto, and holds a BA from the University of Western Ontario. He's a member of the Law Society of Ontario.