Accessibility Quick Links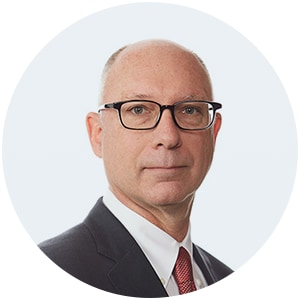 Kevin Van Solkema
Executive Managing Director and Chief Risk Officer
Kevin Van Solkema is Executive Managing Director and Chief Risk Officer for CIBC's U.S. Region. He is responsible for the U.S. Region's enterprise risk management program, which includes independent oversight of credit, operational, market, liquidity and reputational risks. Van Solkema is a member of the U.S. Region Executive Committee.
Van Solkema held a similar role with The PrivateBank, which was acquired by CIBC in June 2017. Prior to joining The PrivateBank in 2008, Van Solkema spent 7 years in various risk management roles with Chicago-based LaSalle Bank and its parent company, ABN AMRO. He most recently served as the Deputy Chief Credit Officer for LaSalle Bank and was responsible for credit approval working with the company's lending units to evaluate and approve extensions of credit to achieve sustainable portfolio quality and earnings growth.
Other roles included leading the commercial credit approval team and overseeing the Commercial Risk Management unit; serving as Head of Consumer Risk Management for North America at ABN AMRO/LaSalle Bank, responsible for all credit and operational risk management activities for ABN AMRO Mortgage Group, LaSalle Bank's Consumer Lending and portfolio mortgage unit.
Van Solkema earned a bachelor's degree in accounting from Grand Valley State University and MBA in finance from Michigan State University.